We invite you to the teleconference on July 5 "Inhibition of antibiotic resistance in Ukraine. How to implement SOPs and infection control in hospitals"
28-06-2023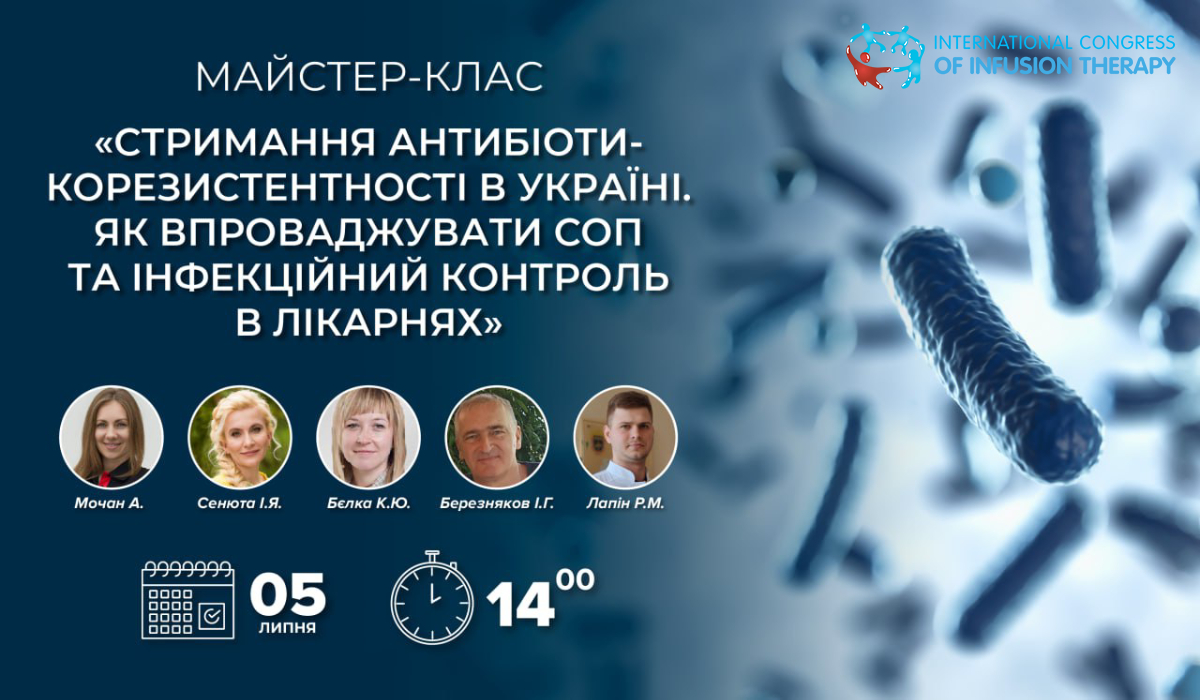 According to the order of the Ministry of Health No. 1614, in 2024, the infection control department (ICD) will function in all hospitals of Ukraine, the main task of which is to administer antibiotics and rationally use them according to indications, which is the key to curbing antibiotic resistance.
Antibiotic resistance is the biggest public health threat in the 21st century.
This is due to many factors, first of all, it is the uncontrolled prescription of antibiotics, which directly "trains" microorganisms and leads to antibiotic resistance.
Since 2021, the ICD has been created in Ukraine and on the way to the coordinated work of the new department in hospitals - often there are difficulties and unresolved issues.
Therefore, we invite you to a teleconference dedicated to rational antibiotic therapy, the creation of SOPs, the legislative and legal framework for the administration of antibiotics in the hospital.
🎓 Interesting reports and an online discussion are waiting for you, where you will have the opportunity to ask questions and immediately receive an answer from the speakers.
🕐 Time: 14:00 - 17:30 on Kyiv time
📋 Participation is free.
❗Registration is mandatory to receive a certificate*, which gives the right to receive 10 BPR points in accordance with the Order of the Ministry of Health of Ukraine dated 02.22.2019 No. 446.
View or download the program in PDF (Ukrainian)
Telephone for inquiries: 0800-400-405 (working hours Mon - Fri from 09:00 to 18:00 Kyiv time) 
Conditions for getting the certificate!
To get the certificate you have to register and to follow the link of online-teleconference you will get by e-mail or Viber message in the day of event.
The certificate authorizes scoring in continuous professional development according to the order of the Ministry of Health of Ukraine №446 dated 22.02.2019.
The link for downloading of certificates will be sent to e-mail address indicated during registration within a week after event (please, check "Spam", "Ads", "Promo" folders as the letter may get there).
❗We recommend you to subscribe on our Facebook-page and YouTube channel. It is regularly updated with interesting and relevant video-reports of well-known Ukrainian and international speakers in the field of medicine. 
Have you registered for our events before? 

Subscribe to the "Infusion Therapy" chatbot on Telegram or the "Infusiontherapy" chatbot on VIBER. ✔ Receive up-to-date information, interesting announcements and news on the topic of infusion therapy!