We invite you to take part in the online conference "New horizons in stroke: treating stroke in a modern way"
14-06-2023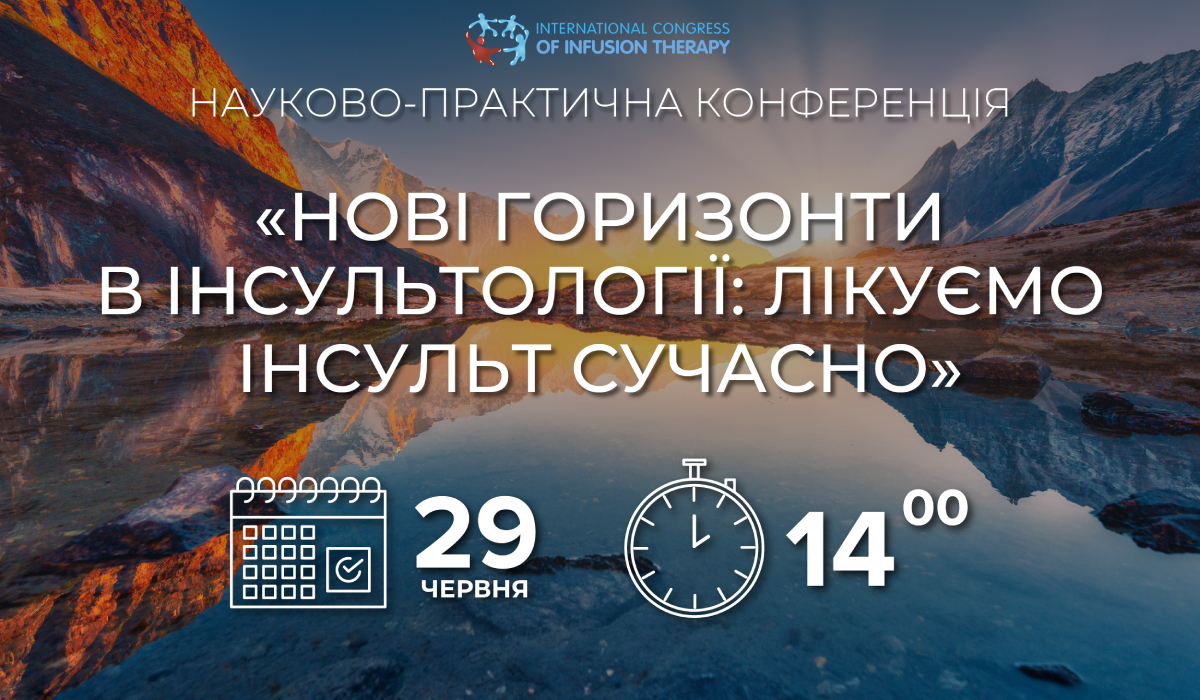 📊Cerebral stroke is a serious health problem in Ukraine. 😔The epidemiology of stroke is high, and Ukraine has one of the highest rates of stroke incidence and mortality among European countries❗
📚These data testify to the need for urgent preventive measures, timely diagnosis and effective treatment of acute ischemic stroke.
❓The main reason for such sad statistics is that the impact on important pathogenetic links such as: ischemic cascade with the development of oxidative stress and glutamate excitotoxicity.
✔️Therefore, the probability of health recovery depends on the provided pathogenetic therapy, which will affect all pathophysiological links of acute ischemic stroke (ischemic cascade and neuroinflammation)
👉We invite you to the telecast "New Horizons in Insultology: Treating Stroke Modernly", which will be held on June 29 from 2:00 p.m. in online format.
Leading consultants and practicing doctors of Ukraine are scheduled to participate in the online conference:
👩‍🎓Moskovko Serhii Petrovych
👩‍🎓Lebedynets Dmytro Volodymyrovych
👩‍🎓Tonchev Mykhailo Dmytrovych
👩‍🎓Lebedynets Pavlo Volodymyrovych
👩‍🎓Hrynykha Dmytro Yuriyovych 
The following questions will be considered during the master class:
🔵Current problems in the treatment of patients with acute ischemic stroke
🔵The possibility of improving the skills of assessing the patient's condition and the effectiveness of therapy according to stroke scales
🔵Analysis of pathophysiological links of acute ischemic stroke
🔵Modern methods of reducing reperfusion damage after recanalization therapy
🔵Practical advice of a neurosurgeon at the hospital stage of acute ischemic stroke treatment
🔵Legal aspects in providing medical care to patients with acute ischemic stroke.
🕐 Time: 14:00 - 18:20
📋 Participation is free.
❗Registration is mandatory to receive a certificate*, which gives the right to receive 10 BPR points in accordance with the Order of the Ministry of Health of Ukraine dated 22.02.2019 No. 446.
View or download the program in PDF (Ukrainian)
Telephone for inquiries: 0800-400-405 (working hours Mon - Fri from 09:00 to 18:00 Kyiv time) 
Conditions for getting the certificate!
To get the certificate you have to register and to follow the link of online-teleconference you will get by e-mail or Viber message in the day of event.
The certificate authorizes scoring in continuous professional development according to the order of the Ministry of Health of Ukraine №446 dated 22.02.2019.
The link for downloading of certificates will be sent to e-mail address indicated during registration within a week after event (please, check "Spam", "Ads", "Promo" folders as the letter may get there).
❗We recommend you to subscribe on our Facebook-page and YouTube channel. It is regularly updated with interesting and relevant video-reports of well-known Ukrainian and international speakers in the field of medicine. 
Have you registered for our events before? 

Subscribe to the "Infusion Therapy" chatbot on Telegram or the "Infusiontherapy" chatbot on VIBER. ✔ Receive up-to-date information, interesting announcements and news on the topic of infusion therapy!