We invite you to the online-teleconference "Ropistesia - epidural analgesia of labour"
27-04-2023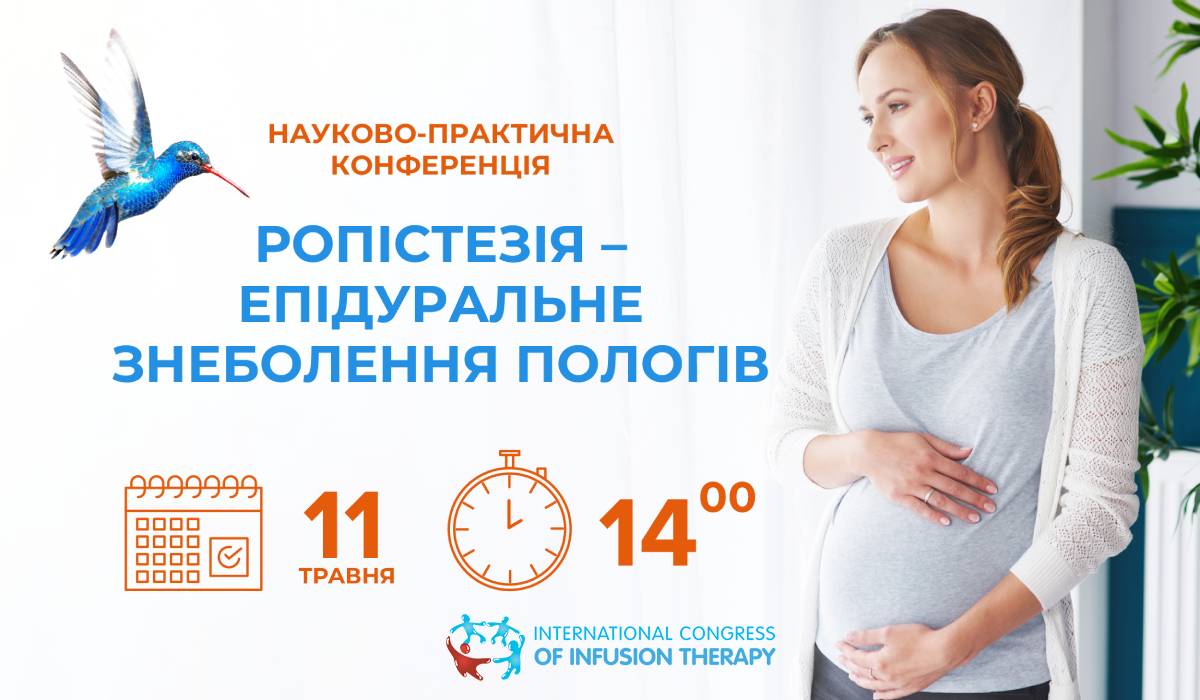 Pain relief during the labour is one of the most controversial topics in obstetrics and anesthesiology. It concerns the safety and comfort of both the mother and the baby.
There are opinions, myths, and international studies and protocols that confirm or refute them. We invite you to a conference dedicated to the topic of pain relief during childbirth, where all the controversial issues will be discussed and the implementation of international practice in obstetrics and anesthesiology in Ukraine.
📌 On May 11th (Thursday at 2:00 PM), become a participant in the conference "Ropistesia - epidural analgesia of labour".
Learn more about 👇
➡ Fears of pregnant women before childbirth. How an obstetrician-gynecologist can psychologically prepare a woman for comfortable childbirth, taking into account the psycho-emotional status of the pregnant woman.
➡ How to avoid motor block during prolonged epidural analgesia?
➡ What is the management tactic for labour with epidural pain relief without motor block?
➡ Practical recommendations for choosing an anesthetic and selecting a dose for epidural pain relief.
Online conference "Ropistesia - epidural analgesia of labour " will be held on May 11, 2023 (Thursday) at 2:00 p.m. in online format.
🕐 Time: 14:00 – 16:45
📋 Participation is free.
❗Registration is mandatory to receive a certificate*, which gives the right to receive 5 BPR points in accordance with the Order of the Ministry of Health of Ukraine dated 02.22.2019 No. 446.
View or download the program in PDF (Ukrainian)
Telephone for inquiries: 0800-400-405 (working hours Mon - Fri from 09:00 to 18:00 Kyiv time) 

Conditions for getting the certificate!
To get the certificate you have to register and to follow the link of online-teleconference you will get by e-mail or Viber message in the day of event.
The certificate authorizes scoring in continuous professional development according to the order of the Ministry of Health of Ukraine №446 dated 22.02.2019.
The link for downloading of certificates will be sent to e-mail address indicated during registration within a week after event (please, check "Spam", "Ads", "Promo" folders as the letter may get there).
❗We recommend you to subscribe on our Facebook-page and YouTube channel. It is regularly updated with interesting and relevant video-reports of well-known Ukrainian and international speakers in the field of medicine. 
Have you registered for our events before? 

Subscribe to the "Infusion Therapy" chatbot on Telegram or the "Infusiontherapy" chatbot on VIBER. ✔ Receive up-to-date information, interesting announcements and news on the topic of infusion therapy!