We invite you to the online-teleconference "Partner birth: obstetrician-gynecologist and anesthesiologist"
15-06-2022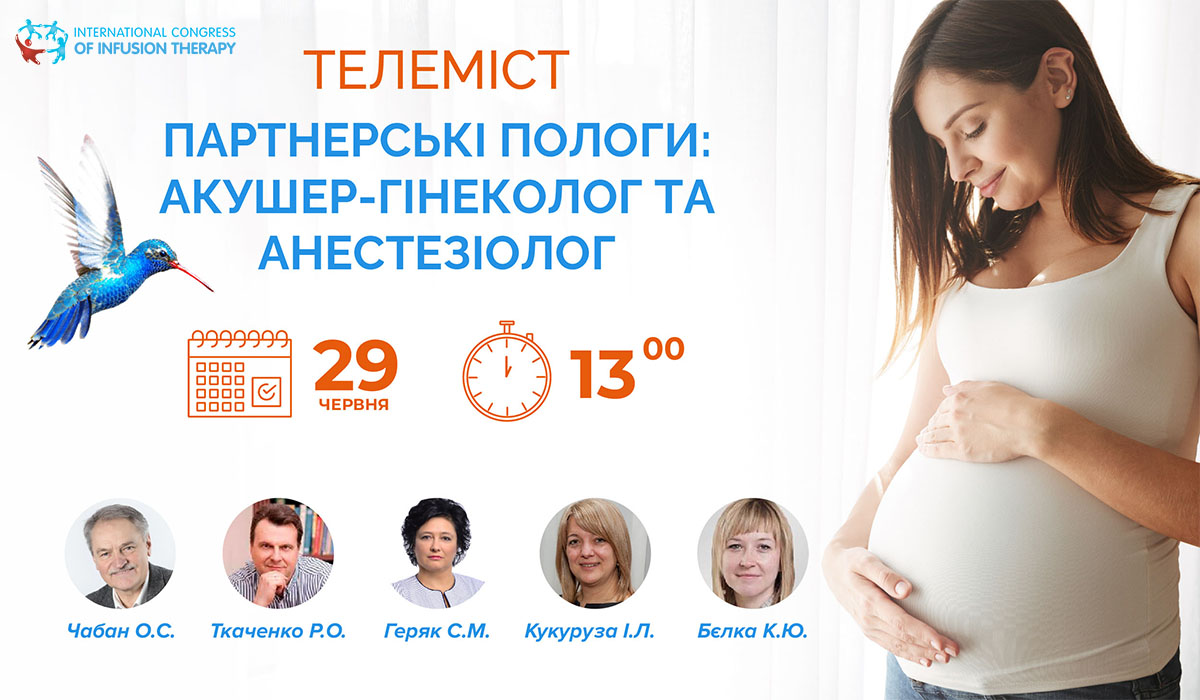 🏥 Pain during labour is accompanied by about 94% of women, while in Ukraine only 14% of childbirth is anesthetized by epidural analgesia, which is the "gold standard" for labour pain relief worldwide ⚠
Childbirth is not only pain, but also stress. The stress hormones epinephrine and norepinephrine lead to discoordination of uterine contractions and vasoconstriction of the uterus and placenta.
Why is labor pain relief still a problem in Ukraine?
The complexity of choosing anesthesia lies in the approaches to providing obstetric care in Ukraine, and at the local level - in the interaction of an obstetrician-gynecologist with a woman in labor, an anesthesiologist and the technical capabilities of maternity hospitals.
❓ Who should be responsible for labor pain management
❓ Which model of cooperation between doctors will be most effective
❓ Is it possible to anesthetize childbirth and keep the feeling of contractions
❓ Why epidural analgesia is the "gold standard" for labor pain relief worldwide
Get answers to these and other questions!
📌 June 29 (Wednesday) at 13-00 become a member of the Teleconference "Partner birth: obstetrician-gynecologist and anesthesiologist".
Learn more about 👇
➡ The effect of pain on the process of childbirth, the psycho-emotional state of a woman and the incidence of postpartum depression
➡ Protocols and international guidelines for physiological labour
➡ Teamwork of an obstetrician-gynecologist and an anesthesiologist: providing a multidisciplinary approach in the choice of pain management 
➡ Ropisthesia - epidural anesthesia without motor block. Differences from classical epidural analgesia
➡ Practical recommendations for the choice of analgesics for pain relief of physiological labour
View or download the program in PDF (Ukrainian)
Telephone for inquiries: 0800-400-405 (working hours Mon - Fri from 09:00 to 18:00 Kyiv time) 
Conditions for getting the certificate!
To get the certificate you have to register and to follow the link of online-teleconference you will get by e-mail or Viber message in the day of event.
The certificate authorizes scoring in continuous professional development according to the order of the Ministry of Health of Ukraine №446 dated 22.02.2019.
The link for downloading of certificates will be sent to e-mail address indicated during registration within a week after event (please, check "Spam", "Ads", "Promo" folders as the letter may get there).
❗We recommend you to subscribe on our Facebook-page and YouTube channel. It is regularly updated with interesting and relevant video-reports of well-known Ukrainian and international speakers in the field of medicine. 
Have you registered for our events before? 

Subscribe to VIBER-BOT 'Infusiontherapy' – get up-to-date information, interesting announcements and news on the topic of infusion therapy!