We invite you to the online teleconference "Changing the view of the treatment of TBI - a unified approach to brain health"!
10-11-2022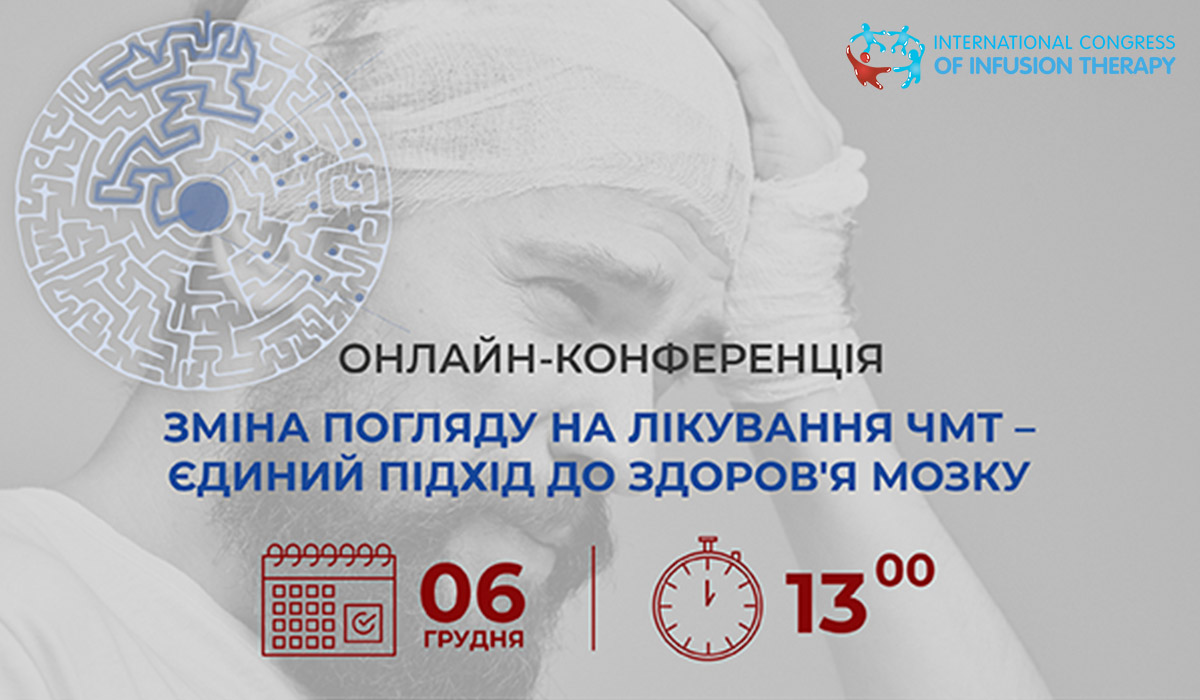 Traumatic brain injury (TBI), defined as "a change in brain function or a sign of brain pathology caused by an external force," results in temporary or permanent impairment of brain function.
⚠ In Ukraine, almost 100,000 victims had TBI every year. In recent months, the relevance of the issue of treatment and rehabilitation of victims of TBI has increased, which is associated with the start of a full-scale war on the territory of Ukraine.
🆘 TBI is accompanied by high mortality and disability of patients, severe consequences with a stable temporary disability of the young socially active population.
✅ To find out the most up-to-date information, we invite you to take part in a scientific event, where we will consider the following topical issues:
Overview of protocols and approaches to the treatment of TBI in the world and Ukraine
Chronology of the development of traumatic brain injury: from primary damage to long-term consequences
Therapeutic goal in the treatment of TBI
Start of TBI therapy
Ways to prevent and minimize the consequences of TBI
Traumatic brain injury in modern military conflicts
Own experience in the management of mine-explosive and civil TBI
The conference is scheduled for December 6, 2022 (Tuesday) in an online format.
🕐 Time: 13:00-16:30
❗❗ During the teleconference, panel discussions, your own clinical experience and a quiz await you, according to the results of which you have a chance to receive gifts that will help in your work:
Phonendoscope Littmann Classic III
Cherokee Medical Garment Certificate
Tonometer Longevita BP-102
Inhaler (nebulizer) Ulaizer Air+
📍 Participation in the thematic teleconference is free, registration is required.
View or download the program in PDF (Ukrainian)
Telephone for inquiries: 0800-400-405 (working hours Mon - Fri from 09:00 to 18:00 Kyiv time) 
Conditions for getting the certificate!
To get the certificate you have to register and to follow the link of online-teleconference you will get by e-mail or Viber message in the day of event.
The certificate authorizes scoring in continuous professional development according to the order of the Ministry of Health of Ukraine №446 dated 22.02.2019.
The link for downloading of certificates will be sent to e-mail address indicated during registration within a week after event (please, check "Spam", "Ads", "Promo" folders as the letter may get there).
❗We recommend you to subscribe on our Facebook-page and YouTube channel. It is regularly updated with interesting and relevant video-reports of well-known Ukrainian and international speakers in the field of medicine. 
Have you registered for our events before? 

Subscribe to VIBER-BOT 'Infusiontherapy' – get up-to-date information, interesting announcements and news on the topic of infusion therapy!