We invite you to the online-teleconference "CardioTIME 2.0: chronic and acute ischemic heart disease"
16-09-2022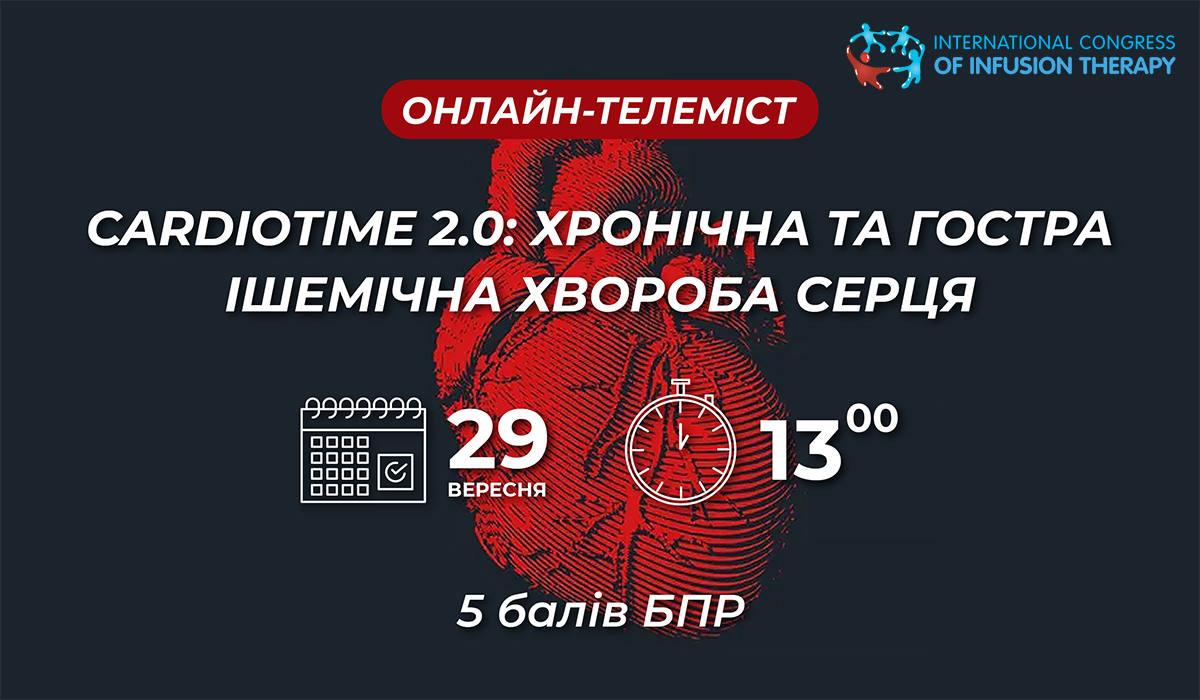 Ischemic heart disease (IHD) endangers the lives of patients. It is one of the main causes of death worldwide, and Ukraine is no exception. According to the results of the STEPS study, the mortality rate due to cardiovascular diseases among non-communicable diseases in our country is 63%. This is one of the highest rates in the world, and coronary heart disease plays a significant role in this statistic.
What is the role of endothelial dysfunction in the pathogenesis of IHD?
How to improve the energy supply of the myocardium in IHD?
How to protect the cardiovascular system from the effects of stress?
Why correct iron deficiency and not just anemia?
What is the ischemic cascade in acute coronary syndrome and what are the possible ways to block it?
We invite you to the "CardioTIME 2.0: chronic and acute ischemic heart disease" teleconference, which will take place on September 29 from 13:00 (UTC +2) in online format.
Participation in the thematic teleconference is free, registration is required. 
❗❗ Interactive participation is planned during the teleconference - a quiz, according to the results of which you have a chance to receive gifts that will help in your work:
phonendoscope Littmann Classic III™
external storage SSD
tonometer Longevita BP-102

nebulizer Ulaizer™ Air+ 



other prizes
View or download the program in PDF (Ukrainian)
Telephone for inquiries: 0800-400-405 (working hours Mon - Fri from 09:00 to 18:00 Kyiv time) 
Conditions for getting the certificate!
To get the certificate you have to register and to follow the link of online-teleconference you will get by e-mail or Viber message in the day of event.
The certificate authorizes scoring in continuous professional development according to the order of the Ministry of Health of Ukraine №446 dated 22.02.2019.
The link for downloading of certificates will be sent to e-mail address indicated during registration within a week after event (please, check "Spam", "Ads", "Promo" folders as the letter may get there).
❗We recommend you to subscribe on our Facebook-page and YouTube channel. It is regularly updated with interesting and relevant video-reports of well-known Ukrainian and international speakers in the field of medicine. 
Have you registered for our events before? 

Subscribe to VIBER-BOT 'Infusiontherapy' – get up-to-date information, interesting announcements and news on the topic of infusion therapy!