We invite you to the online teleconference "5th Interdisciplinary School of Infusion Therapy: Opportunities in Wartime"
28-04-2022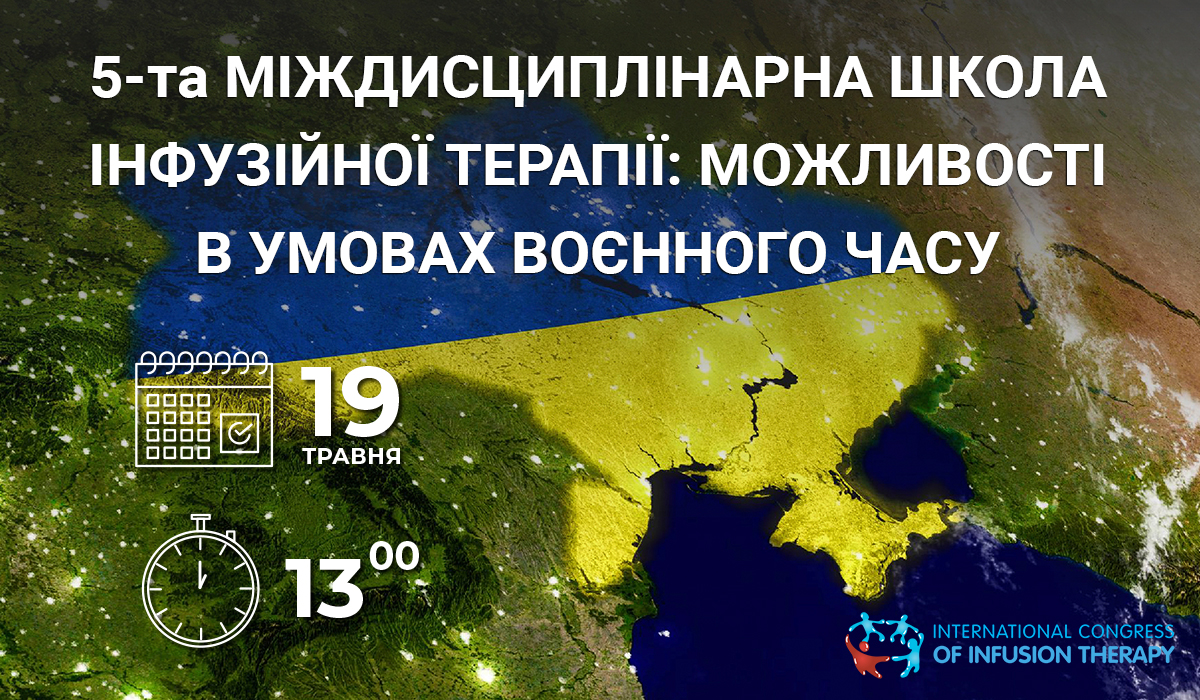 We invite you to take part in the traditional, 5th teleconference "School of Infusion Therapy", which will take place on Thursday, May 19, 2022 in online format. 🕛 Time: from 13:00 to 16:00.
Why is infusion therapy an integral part of inpatient and, quite often, outpatient treatment?
Greater bioavailability of drugs compared to oral administration
Fast delivery of drugs to body tissues
Independence from eating
Accurate control of single and daily doses of drugs
5th Interdisciplinary School of Infusion Therapy is dedicated to the principles of infusion therapy in cardiology, neurology, endocrinology, therapy and in emergencies in wartime.
📍 Thursday, May 19, 2022 online format
🔥 Participation is free
❗ Registration is required to receive a link to the broadcast
📖 After watching the teleconference, you will receive a certificate of participation. 
While watching the teleconference, you will learn the following:

Basic principles of infusion therapy
Approaches to the treatment and rehabilitation of trauma patients
Treatment of pain during the war
How to help a patient with acute coronary syndrome
The problem of ketoacidosis in endocrinology
The problem of intoxication in allergic diseases
View or download the program in PDF (Ukrainian)
Telephone for inquiries: 0800-400-405 (working hours Mon - Fri from 09:00 to 18:00 Kyiv time) 
Conditions for getting the certificate!
To get the certificate you have to register and to follow the link of online-teleconference you will get by e-mail or Viber message in the day of event.
The certificate do not authorizes scoring in continuous professional development.
The link for downloading of certificates will be sent to e-mail address indicated during registration within a week after event (please, check "Spam", "Ads", "Promo" folders as the letter may get there).
❗We recommend you to subscribe on our Facebook-page and YouTube channel. It is regularly updated with interesting and relevant video-reports of well-known Ukrainian and international speakers in the field of medicine. 
Have you registered for our events before? 

Subscribe to VIBER-BOT 'Infusiontherapy' – get up-to-date information, interesting announcements and news on the topic of infusion therapy!