We invite you to the online conference "Protect the neurovascular unit in patients with TBI - take a recovery course!"
18-03-2023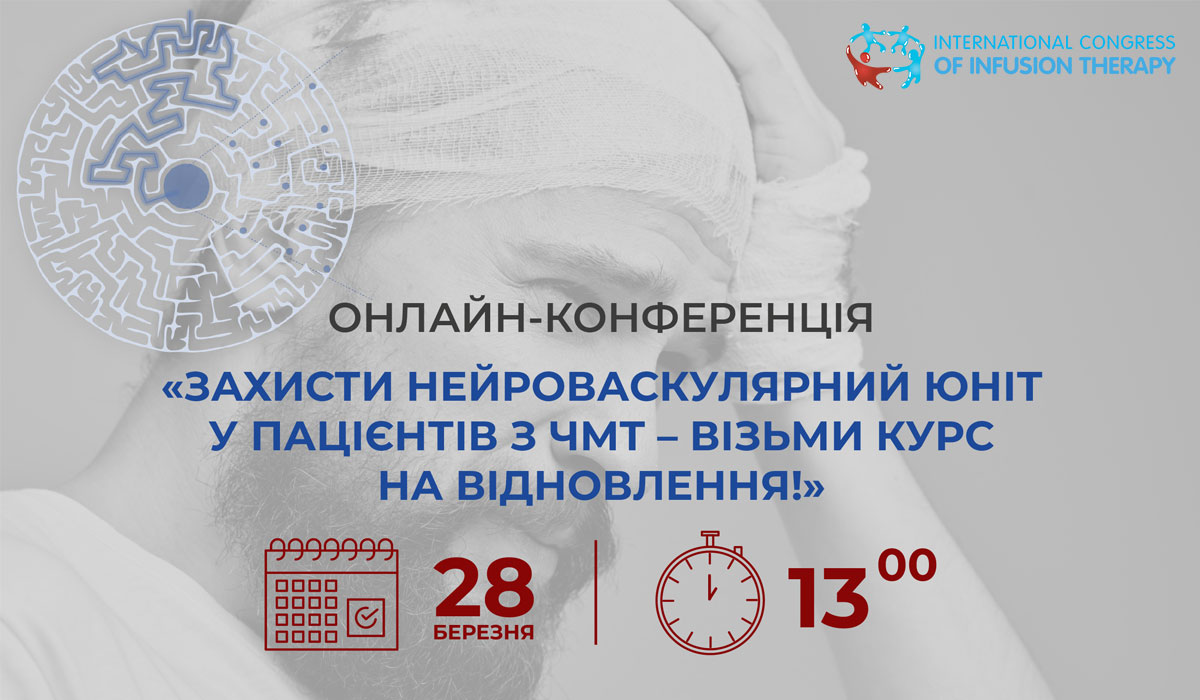 🤕 TBI is one of the biggest problems of modern Ukraine 🧠 Traumatic brain injury (TBI) is a process that leads to traumatization of all brain structures and entails irreversible changes in the functioning of the brain.
📈 In Ukraine, as a result of a full-scale invasion, the number of diagnosed patients with TBI increased from 100,000 to 240,000 victims and the statistics only continue to grow.
‼️Consequences of TBI provoke a low quality of life and disability of young able-bodied people.
👉 The main task of doctors is to take care of patients with brain injury, both civilians and our defenders 💙💛!
In order to find out how we can reduce the percentage of consequences after TBI, we invite you to participate in a scientific event, during which we will discuss the main aspects of the nosology of TBI:
✅ Why is TBI not an isolated event and manifests itself in different ways at all stages of development?
✅ Why do we need to protect NVU in case of TBI?
✅ TBI treatment methods in Ukraine and the world
✅ Reserves in the treatment of TBI
✅ Pathogenetic approach to TBI therapy
✅ Clinical experience, advice of practicing doctors, acquired therapeutic habits of leading doctors of Ukraine
✅ Mine-explosive injury, post-concussive syndrome and TBI are interrelated processes during wartime that require an appropriate solution
🕐 March, 28. Time: 13:00 – 15:45
📋 Participation is free.
❗ Registration is mandatory to receive a certificate*, which gives the right to receive 5 BPR points.
View or download the program in PDF (Ukrainian)
Telephone for inquiries: 0800-400-405 (working hours Mon - Fri from 09:00 to 18:00 Kyiv time) 

Conditions for getting the certificate!
To get the certificate you have to register and to follow the link of online-teleconference you will get by e-mail or Viber message in the day of event.
The certificate authorizes scoring in continuous professional development according to the order of the Ministry of Health of Ukraine №446 dated 22.02.2019.
The link for downloading of certificates will be sent to e-mail address indicated during registration within a week after event (please, check "Spam", "Ads", "Promo" folders as the letter may get there).
❗We recommend you to subscribe on our Facebook-page and YouTube channel. It is regularly updated with interesting and relevant video-reports of well-known Ukrainian and international speakers in the field of medicine. 
Have you registered for our events before? 

Subscribe to VIBER-BOT 'Infusiontherapy' – get up-to-date information, interesting announcements and news on the topic of infusion therapy!