We invite you to the online conference "Disease of small vessels: small vessels - big problems." Provide timely and modern brain protection"
21-04-2023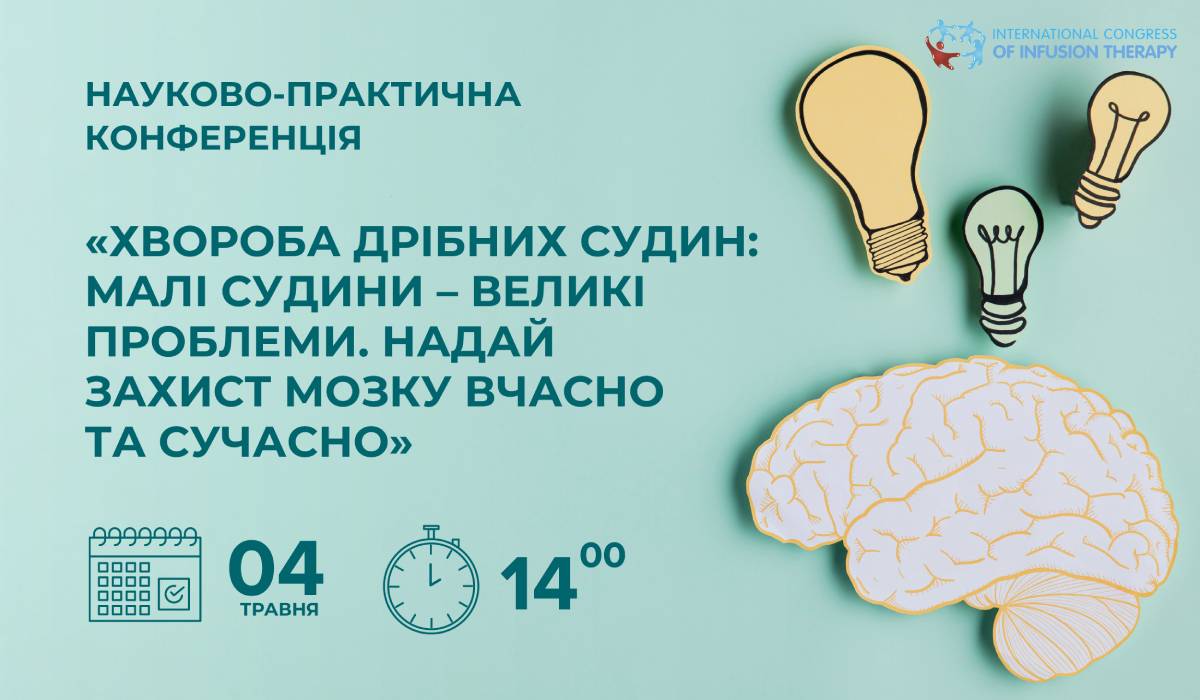 🧠The brain is a segment of the neural network that is responsible for controlling all the functions of our body. And what will happen if there are failures in this network❓
🥴Usually, the main reasons for the failure of the "brain" neural network system are large-scale vascular damage, which worsens the quality of life of the patient and his relatives, and also progresses to vascular dementia and acute ischemic stroke⛔
❗We ask you to participate in the online conference and, together with leading specialists in the field of neurology, improve your own therapeutic approaches to the treatment of patients with small vessel disease, which will improve cerebral hemodynamics and protect the brain from damage.
The following questions will be considered during the scientific event:
👉 Etiology and pathogenesis of the disease of small vessels of the brain⛔
👉 Disease of small vessels - a disease of only elderly people?!
👉 The impact of small vessel disease on the whole brain🧠
👉 Chronology of SVD development: symptom complex at 40 years old and at 70 years old😬
👉 Clinical manifestations of cerebrovascular pathology: from cognitive impairment to stroke❌!
👉 Therapeutic goals of treating patients with CDS💊
👉 Pathogenetic influence on each link of the disease of small vessels🦾
Online conference "Disease of small vessels: small vessels - big problems. Provide timely and modern brain protection" will be held on May 4, 2023 (Thursday) at 2:00 p.m. in online format.
🕐 Time: 14:00 – 16:45
📋 Participation is free.
❗Registration is mandatory to receive a certificate*, which gives the right to receive 5 BPR points in accordance with the Order of the Ministry of Health of Ukraine dated 02.22.2019 No. 446.
View or download the program in PDF (Ukrainian)
Telephone for inquiries: 0800-400-405 (working hours Mon - Fri from 09:00 to 18:00 Kyiv time) 
Conditions for getting the certificate!
To get the certificate you have to register 

(indicating Surname, First Name and Patronymic in Ukrainian) 

and to follow the link of online-teleconference you will get by e-mail or Viber message in the day of event.
The certificate authorizes scoring in continuous professional development according to the order of the Ministry of Health of Ukraine №446 dated 22.02.2019.
The link for downloading of certificates will be sent to e-mail address indicated during registration within a week after event (please, check "Spam", "Ads", "Promo" folders as the letter may get there).
❗We recommend you to subscribe on our Facebook-page and YouTube channel. It is regularly updated with interesting and relevant video-reports of well-known Ukrainian and international speakers in the field of medicine. 
Have you registered for our events before? 

Subscribe to the "Infusion Therapy" chatbot on Telegram or the "Infusiontherapy" chatbot on VIBER. ✔ Receive up-to-date information, interesting announcements and news on the topic of infusion therapy!