We invite you to the international online-conference "Life extension in menopause"
01-10-2021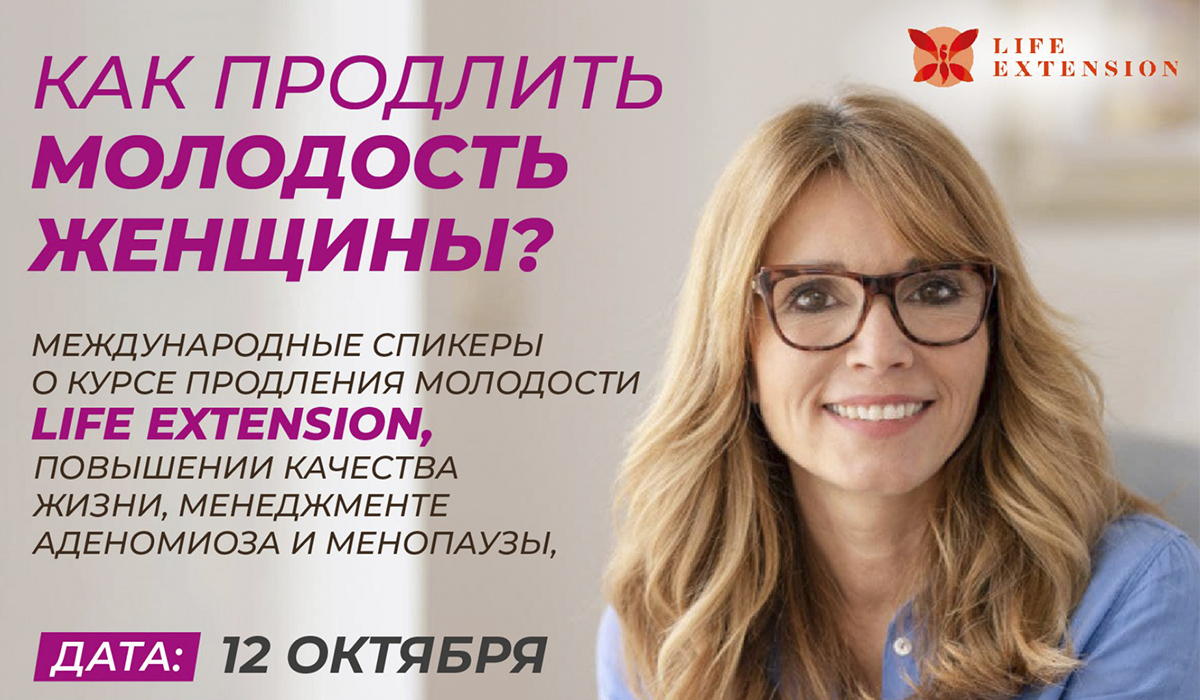 We invite you to take part in the international online-conference "Life extension in menopause", which will be held on Tuesday, October 12, 2021.
Humanity does not want to grow old and for many millennia has been looking for an answer to the question: "how to prolong youth." This is especially interest for women. Most women in transition are concerned about a decline in quality of life due to deteriorating health, as well as the development of cardiovascular diseases or metabolic syndrome.
The secrets of preserving youth and improving the quality of life 40+ have been revealed, and you are the first to know about it.
🎓 Leading experts who have proven that cell youth prolongation is a reality will share their personal experience.
The information will be useful for gynecologists, endocrinologists, therapists, family doctors who are worried about the health of their patients.
In the process of participation, you will receive:
🌏 Results of the application of the innovative program for the prolongation of youth - the Xylat-Tivortin course Life extension
📖 Pathogenetic argumentation of therapy, which will become the basis for improving the quality of life of women in menopause
📌 Answers to questions about longevity
🏆 Certificate of participation in an international conference 
💰 Participation at the event is free of charge, but registration is compulsory
🌏 7 leading international speakers
🕒 Event duration: 3,5 hours
Start time:
Kyiv - 12:00
Baku, Tbilisi - 13:00
Tashkent, Dushanbe - 14:00
Bishkek, Almaty - 15:00
Waiting for you!
View or Download the program in PDF-format (in Russian)
Telephone for inquiries: 0800-400-405 (working hours Mon - Fri from 09:00 to 18:00 Kyiv time) 

❗ We recommend to subscribe on our YouTube channel. It is regularly updated with interesting and relevant video-reports of well-known Ukrainian and international speakers in the field of medicine. 
Have you registered for our events before? 

Subscribe to VIBER-BOT 'Infusiontherapy' – get up-to-date information, interesting announcements and news on the topic of infusion therapy!