We invite you on January 22 to the online-conference for pharmacists "Pharm-Foundation" (UPDATED)
04-01-2022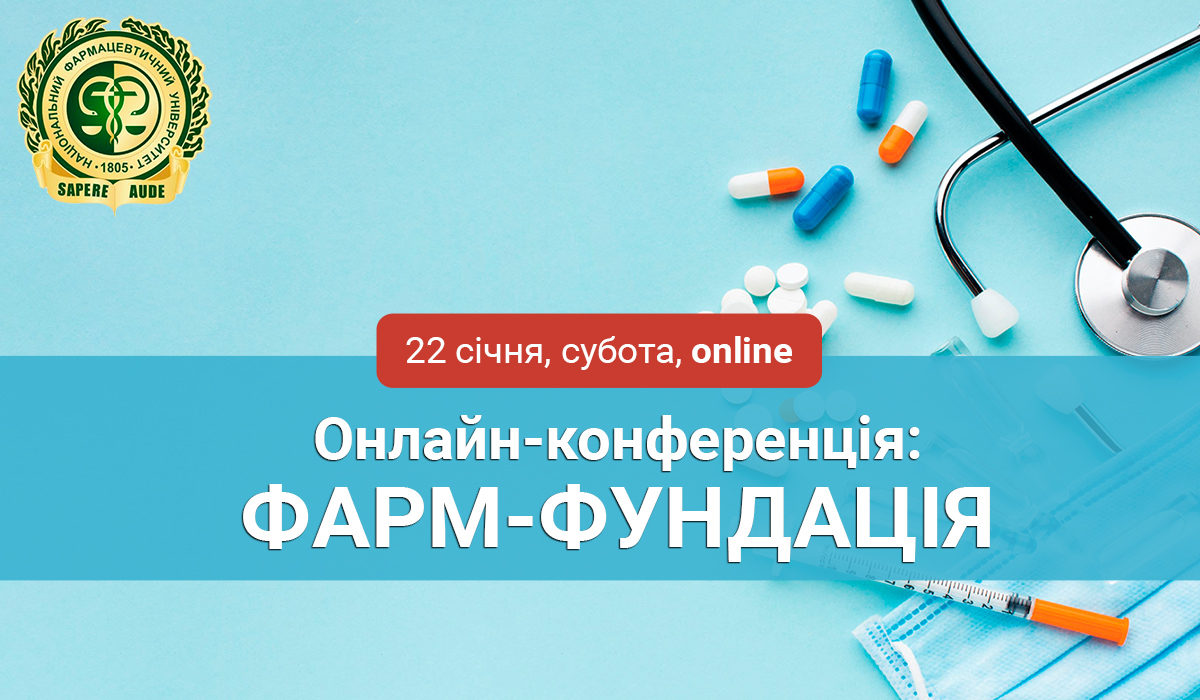 Avicenna and Hippocrates were definitely not friends, because they lived at different times, but from ancient times, as today, the focus is on the patient and his main earthly value - life.
At a difficult time for the whole world, pharmaceutical workers are taking on the challenge and remaining at the forefront of humanity's struggle for health.
Pharm Foundation is a project online conference aimed at the development and effective interaction in the triad "Doctor - Patient - Pharmacist". Specialists in practical pharmacy, clinicians, leading specialists in the pharmacy industry with a focus on current trends, innovations, new approaches to treatment and prevention - all this at the first online conference at the crossroads of specialties "Farm Foundation".
SECTION 1 - ADAPTABILITY, TRANSFORMATION AND OTHER PHARMACY TRENDS IN 2022
SECTION 2 - RESPIRATORY DISEASES TREAT RESPIRATORY
SECTION 3 - RECOVERY COURSE
Be sure to join!
📌 Date: January, 22th, Saturday.
🕙 Time: from 10:00 to 14:30.
✉ Certificate for pharmacists and pharmacists (from the Institute for Advanced Studies of Specialists of the National Pharmaceutical University)
❓ You will have the opportunity to ask questions to the speakers!
🔥 Over 5 hours of interesting and mega-useful content
💰 Participation is free
👥 To participate in a large-scale event, you must register.
Organizers of the event:

Institute for Advanced Studies of Specialists of the National Pharmaceutical University
Program:

10.00 - 10.20 - MODERN CHANGES IN POSTGRADUATE PHARMACEUTICAL EDUCATION (Galiy Larisa Vitalievna, Doctor of Pharmacy, Professor, Director of the Institute for Advanced Studies of Specialists of the National University of Pharmacy)
10.20 - 10.40 - HOW THE CLIENT'S CLIENT WILL CHANGE IN 2022, WHAT YOU SHOULD BE READY FOR (Serhiy Leonidovych Hornitsky, Commercial Director of Pharmastore Pharmacy Network)
10.40 - 11.00 - PHARMOPIC. PANDEMIC REHABILITATION (Zvolsky Andrey Mikhailovich, head of the training department of the pharmacy network "Podorozhnik")
11.00 - 11.20 - MOTIVATION OF THE INTERNAL CLIENT OF THE PHARMACY NETWORK (Kuzmenko Yuliya Sergeevna, HR director of the pharmacy chain "Apteka Nyzkyh Thin")
11.30 - 12.00 - ADDRESS DELIVERY OF MEDICINES (Gashinova Kateryna Yuriyivna, MD, Professor, Head of the Department of Occupational Diseases and Clinical Immunology, Dnipro State Medical University)
12.00 - 12.30 - HOW TO IMPROVE THE QUALITY OF LIFE WITH ALLERGIC RHINITIS? (Zaikov Sergey Viktorovich, Professor of the Department of Tuberculosis and Pulmonology, National Pedagogical University of Ukraine named after P.L. Shupyka, President of AAU, Kyiv)
12.30 - 13.00 - GOOD OLD PREVENTION, OR WHAT WE NEGLIGENTLY neglect (Haytovych Mykola Valentynovych, MD, Professor, Head of the Department of Clinical Pharmacology and Clinical Pharmacy, NMU)
13.00 - 13.30 - NEW CLIENT POSTCOVID LONG HAULERS (Galushko Alexander Anatoliyovych, MD, Professor, Anesthesiologist, Professor of Family Medicine and outpatient care of the National University of Health of Ukraine named after P.L. Shupika)
13.30 - 14.00 - RESPIRATORY CYTOPROTECTION AS A MODERN POSSIBILITY OF ARVI THERAPY (Koloskova Olena Kostiantynivna, MD, Professor, Head of the Department of Pediatrics and Infectious Pediatrics, Bukovynian State Medical University)
14.00 – 14.30 – CARE OF WOMEN'S HEALTH (Shcherbak Maria Oleksandrivna, Candidate of Medical Sciences, Senior Research Fellow, Department of Sexology and Andrology, Institute of Urology, National Academy of Medical Sciences of Ukraine, Obstetrician-Gynecologist, Sexopathologist)
14.30 

–

 14.40 

–

 Closing of the conference. Resolution.

View or download the program in PDF (Ukrainian)
Telephone for inquiries: 0800-400-405 (working hours Mon - Fri from 09:00 to 18:00 Kyiv time) 

Conditions for getting the certificate!
To get the certificate you have to register and to follow the link of online-teleconference you will get by e-mail or Viber message in the day of event.
The certificate authorizes scoring in continuous professional development according to the order of the Ministry of Health of Ukraine №446 dated 22.02.2019.
The link for downloading of certificates will be sent to e-mail address indicated during registration within a week after event (please, check "Spam", "Ads", "Promo" folders as the letter may get there).
❗We recommend you to subscribe on our Facebook-page and YouTube channel. It is regularly updated with interesting and relevant video-reports of well-known Ukrainian and international speakers in the field of medicine. 
Have you registered for our events before? 

Subscribe to VIBER-BOT 'Infusiontherapy' – get up-to-date information, interesting announcements and news on the topic of infusion therapy!