Video of the online-conference "Pharm-Foundation"
25-01-2022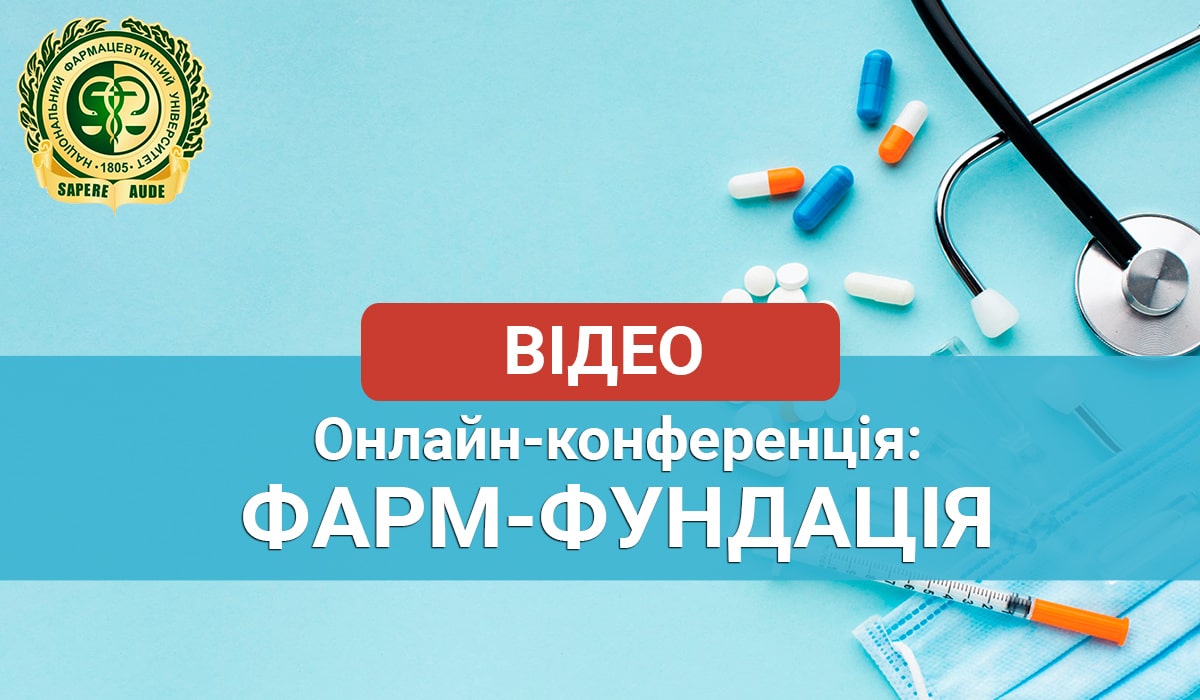 All videos of reports from the online-conference for pharmacists "Pharm-Foundation" which was held on January 22, 2022 are available for viewing on the YouTube.
More than 5 000 pharmacists have registered to participate in this event.
Video recordings of the teleconference:
🎬 MODERN CHANGES IN POSTGRADUATE PHARMACEUTICAL EDUCATION (Galiy Larisa Vitalievna, Doctor of Pharmacy, Professor, Director of the Institute for Advanced Studies of Specialists of the National University of Pharmacy)
🎬 HOW THE CLIENT'S CLIENT WILL CHANGE IN 2022, WHAT YOU SHOULD BE READY FOR (Serhiy Leonidovych Hornitsky, Commercial Director of Pharmastore Pharmacy Network)
🎬 PHARMOPIC. PANDEMIC REHABILITATION (Zvolsky Andrey Mikhailovich, head of the training department of the pharmacy network "Podorozhnik")
🎬 MOTIVATION OF THE INTERNAL CLIENT OF THE PHARMACY NETWORK (Kuzmenko Yuliya Sergeevna, HR director of the pharmacy chain "Apteka Nyzkyh Thin")
🎬 ADDRESS DELIVERY OF MEDICINES (Gashinova Kateryna Yuriyivna, MD, Professor, Head of the Department of Occupational Diseases and Clinical Immunology, Dnipro State Medical University)
🎬 HOW TO IMPROVE THE QUALITY OF LIFE WITH ALLERGIC RHINITIS? (Zaikov Sergey Viktorovich, Professor of the Department of Tuberculosis and Pulmonology, National Pedagogical University of Ukraine named after P.L. Shupyka, President of AAU, Kyiv)
🎬 GOOD OLD PREVENTION, OR WHAT WE NEGLIGENTLY NEGLECT (Haytovych Mykola Valentynovych, MD, Professor, Head of the Department of Clinical Pharmacology and Clinical Pharmacy, NMU)
🎬 NEW CLIENT POSTCOVID LONG HAULERS (Galushko Alexander Anatoliyovych, MD, Professor, Anesthesiologist, Professor of Family Medicine and outpatient care of the National University of Health of Ukraine named after P.L. Shupika)
🎬 RESPIRATORY CYTOPROTECTION AS A MODERN POSSIBILITY OF ARVI THERAPY (Koloskova Olena Kostiantynivna, MD, Professor, Head of the Department of Pediatrics and Infectious Pediatrics, Bukovynian State Medical University)
🎬 CARE OF WOMEN'S HEALTH (Shcherbak Maria Oleksandrivna, Candidate of Medical Sciences, Senior Research Fellow, Department of Sexology and Andrology, Institute of Urology, National Academy of Medical Sciences of Ukraine, Obstetrician-Gynecologist, Sexopathologist)
🎬 Closing of the conference. Resolution
❗We recommend you to subscribe on our Facebook-page and YouTube channel. It is regularly updated with interesting and relevant video-reports of well-known Ukrainian and international speakers in the field of medicine.
Have you registered for our events before?
Subscribe to VIBER-BOT 'Infusiontherapy' – get up-to-date information, interesting announcements and news on the topic of infusion therapy! To start chat-bot send any message after subscribing.