Resolution of the Teleconference "Treatment of Patients with COVID-19. Practical Experience of Doctors of Specialized Hospitals"
10-12-2020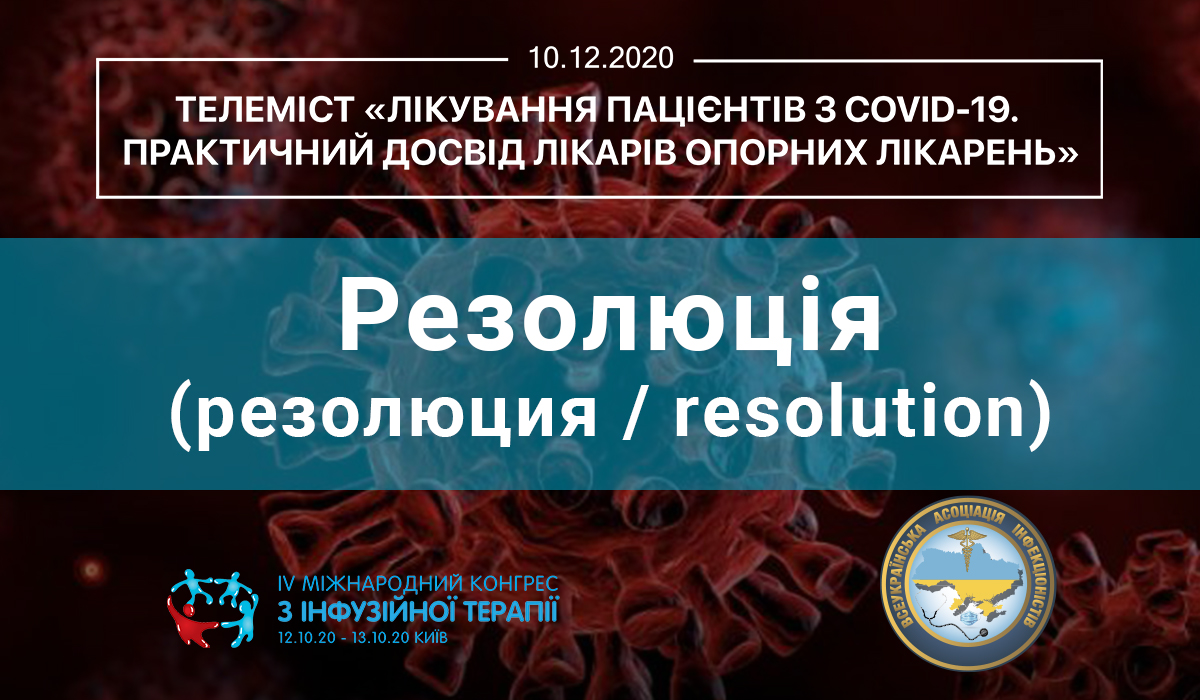 About 10 000 health care specialists from all around Ukraine have registered to participate in the teleconference "Treatment of Patients with COVID-19. Practical Experience of Doctors of Specialized Hospitals".
During the event the leading scientists and doctors who provide assistance to patients with COVID-19 from the very first day have shared their experience.
To ensure multidisciplinary format of the event the representatives of different specialties were invited to participate, such as Infectious Disease Specialists, Pulmonologists, Critical Care Physicians and Family Doctors. 
Nine reports regarding the following issues were broadcasted and offered for discussion: 
What volume of infusion therapy is safe for such patients?
How can we influence on cytokine storm?
Protection of targeted organs of patients with COVID-19
"Breakwater" strategy for extinguishing of cytokine fire
What are the prospects for use of parenteral acetylcysteine for patients with COVID-19?
What strategy for use of nebulizer therapy for patients with COVID-19 to choose? 
Teleconference's video is available for viewing on our YouTube channel.
For convenience, use the timecode navigation. And don't forget to subscribe on our channel, if you don't want to miss new interesting reports!
Conclusions and decisions based on results of reports discussion:
1. The new pandemic coronaviral infection caused by SARS-CoV-2 virus that in severe cases results in acute respiratory distress syndrome has caused global crises and became the most difficult challenge for the global health care system over the last century. 
2. Pathogenesis of COVID 19 provides for virus replication in epithelium of upper and lower respiratory airways with further diffuse lesion of alveolocytes resulting in viral pneumonia or acute respiratory distress syndrome with 40% mortality rate. The principal symptoms are: fever (83-99%), loss of appetite (40-84%), cough (59-82%), undue tiredness (44-70%), anosmia (15-30%), muscle pain (11-35%). Besides, coronaviral infection is often followed with coagulopathy causing venous thrombosis, acute myocardial infarction, disseminated inopexia. 
3. All forms of COVID-19-associated pneumonia require complex treatment approach, as far as virus damages small cells of bronchi, alveoli, and endotheliocytes, systemic inflammation develops causing hypercoagulation and thrombosis, injury of lung tissues with possible development of acute respiratory distress syndrome.
4. We already know about wavelike development of COVID-19, when some patients (about 20% of cases) feel temporary improvement after the first wave, but then the second wave of symptoms (so-called lung phase) comes and it is more severe. And it is the best time to use "Breakwater" scheme of syndromic-pathogenic approach in addition to protocol based treatment. The scheme including such medicines as Xavron, Tivor-L, Reosorbilact has demonstrated not only its efficiency but safety too (the research has not discovered any side effects on the side of organs and systems that could be connected with this treatment scheme). The main group of patients has demonstrated not only better indicators of oxygen saturation growth, body temperature recovery, lab test values (CRP, D-dimer, ferritin), but also almost 2 days shorter period of hospital treatment. The offered syndromic-pathogenic approach is more and more often used for patient treatment schemes as far as it helps to resist uncontrolled immune response and to protect targeted organs. 
5. The comprehensive syndromic-pathogenic approach to viral pneumonitis with endothelitis, thrombosis, non-controllable cytokine and chemokine release (cytokine storm) may include:
Containment and extinguishing of cytokine storm with Xavron
Control of intoxication and impaired hemorheology with hyperosmolar balanced solution Reosorbilact 
Prevention of endothelium destruction, first of all of alveolocytes and II type alveolocytes in particular, producing surfactant, decrease of pulmonary hypertension development with Tivor-L. 
The use of syndrome-pathogenetic therapy (Xavron + Reosorbilakt + Tivorel), which received the working name "Volnorez", requires further study involving a larger sample of patients.
6. The selection of infusion therapy has to provide sufficient rehydration preserving renal function. The strategy of normovolemia has to ensure: 

a) prevention of hemoconcentration increasing the risk of thrombosis
b) normalizing of functioning of mucociliar clearance and detoxication 
c) at the outpatient treatment stage for viral pneumonia the disease progression doesn't envisage any restrictions due to the principle of infusion therapy restrictive strategy. 
7. Lung damage with further development of respiratory disturbance and extension of pathologic processes to other body systems are one of the main reasons for complicated development of disease and mortality caused by COVID-19. Acetylcysteine is used for treatment of patients with respiratory distress syndrome to decrease or prevent lung damage. Acetylcysteine prevents oxidative stress and decreases inflammatory response in respiratory epithelium forming pneumoprotective effect. Pneumoprotective features of acetylcysteine are based on ability to prevent death of respiratory system epithelium. Parenteral acetylcysteine – Ingamist – provides for maximum bio-availability of compound. 
8. The nebulizer therapy is recommended by clinical protocols for treatment of respiratory disease. If patients with asthma, COPD infected with COVID-19 suffer from wheezing, it is recommended to use bronchial spasmolytic and inhalation glucocorticoids: 
Nebutamol through nebulizer to increase lung function and decrease labored respiration.
Nebufluson through nebulizer as an alternative to oral steroids.
The current recommendations of the British Thoracic Society do not consider nebulizer as potential risk for transmission of COVID-19, as far as spraying agent produced inside the nebulizer chamber does not contain any virus.