Registration for the II online-teleconference "Management of a patient with asthma, COPD. Treatment in "Easy" style"
18-10-2021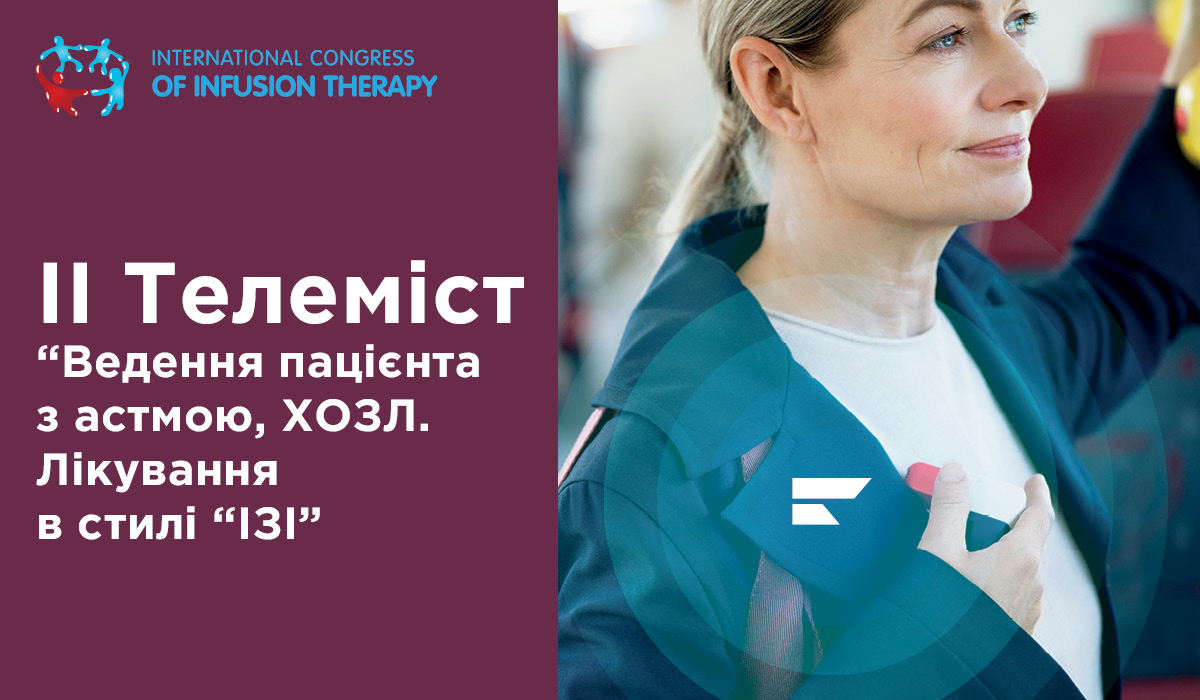 We invite you to take part in an important event in respiratory medicine: II online-teleconference "Management of a patient with asthma, COPD. Treatment in "Easy" style". The event will take place on October 26, 2021 from 13:00 to 17:30.
💥 The steady increase in the incidence of COVID-19 requires more attention to this problem from the professional medical community. A new global challenge focuses the medical community on the treatment of patients with Coronavirus disease.
👥 At the same time, patients with bronchial asthma and COPD require constant and expert medical attention.
⚠ The management of patients with chronic bronchoobstructive diseases is complicated by:
an increase in severe patients with COVID-19;
decrease in the availability of doctors;
a decrease in the number of patients' requests due to the fear of contracting COVID-19;
dissemination of incorrect information about the high mortality rate of such patients, the need to cancel inhaled steroids.
🌏 Today the medical community declares - given the new conditions, therapy for patients with asthma and COPD should provide the most effective control of symptoms and prevention of exacerbations.
📖 As part of the teleconference, you will learn from leading specialists in the field of pulmonology, allergology, therapy, modern strategies for treating asthma, COPD, which simplify the doctor's work and transfer the patient's therapy to a new level of "Easy", which leads to high control of symptoms of asthma and COPD.
🔥 Also consider new, multicenter, high-quality studies on inhaled steroid use during COVID-19 and POST-COVID.
📌 The video link will take place on Tuesday, October 26th. Beginning at 13:00.
📌 7 reports and panel discussions are planned with expert doctors on the advisability of using inhaled GCS during the period of COVID-19 and POST-COVID, discussing aspects of asthma and COPD treatment that are important for both the patient and the doctor, even if they are inconvenient and painful.
Registered users receive a certificate of 5 BPR points.
For whom: pediatricians, family doctors, therapists, allergists, pulmonologists.
The event will be held online
Participation in the teleconference is free
Registration is required. The number of participants is not limited
👉 Organizers:

Association of Phthisiatricians and Pulmonologists of Ukraine
Association of Allergists of Ukraine
Information partner - the magazine "Asthma and Allergy".
View or Download the program in PDF-format (in Ukrainian)
Telephone for inquiries: 0800-400-405 (working hours Mon - Fri from 09:00 to 18:00 Kyiv time) 
❗ We recommend to subscribe on our YouTube channel. It is regularly updated with interesting and relevant video-reports of well-known Ukrainian and international speakers in the field of medicine. 
Have you registered for our events before? 

Subscribe to VIBER-BOT 'Infusiontherapy' – get up-to-date information, interesting announcements and news on the topic of infusion therapy!