Personal account of a congress participant – create your own program! (step by step manual)
06-10-2020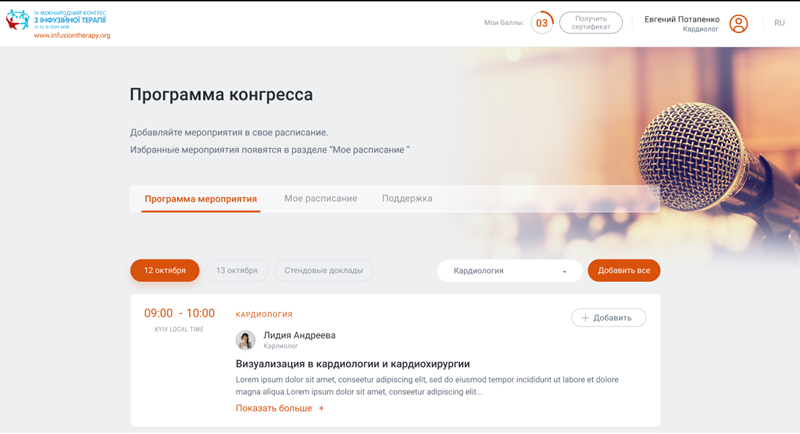 Now you choose what to watch! In the personal account of a participant of the Congress you can form your personalized program of lectures for 2 days.
Do you want to prepare for the Congress in advance? Here are some simple recommendations!
If you haven't registered yet, do so
Log in to your personal account *

Get a short training on how to use the personal account

Look through the lectures in 9 sections in the "Congress Program" tab, using filters by topics and days (October 12th and 13th, Poster presentations)
Create your own schedule by adding the lectures/presentations and quizzes you are interested in (they will appear in the "My schedule" tab. You can also add all the lectures/presentations of the selected section at once)
Join the congress chatbot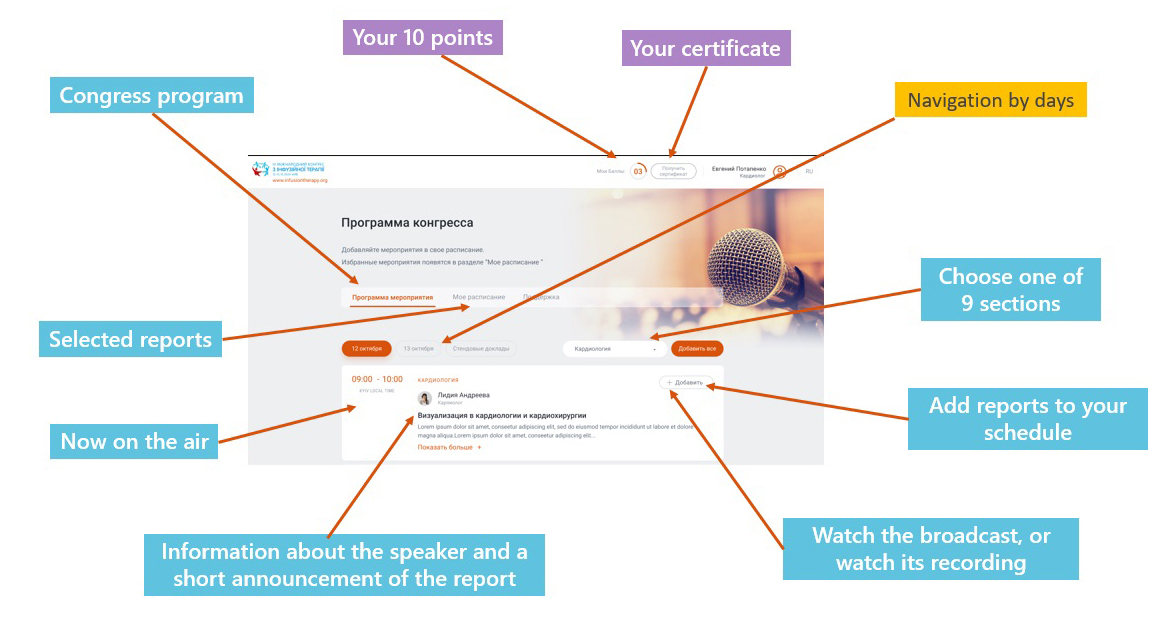 Attention!
The official opening and closing of the Congress have already been added to your personal program
On October 12th and 13th, watch broadcasts of selected lectures/presentations in the "My Schedule" tab
The personal account has only Ukrainian and Russian versions. You will be able to view all lectures/presentations in Ukrainian or Russian
Reports of foreign speakers will be presented in the original language with Ukrainian subtitles, as well as in Ukrainian and Russian
In the section "Poster presentations" there are additional videos of speeches of those participants who submitted abstracts are placed
You will be able to download the certificate with 10 points after completion of the last broadcast of the Congress
Check the correctness of the entered Surname / Name / Patronymic, specified during registration – they will be indicated in the personal certificate
Records of all lectures/presentations will be available in the personal account within 14 days after the end of the Congress
We will add them to our YouTube channel later (follow the news on the site)
Invite your colleagues to join one of the largest scientific events in the medical community of Ukraine this year!
For all questions call the hotline: 0800400405 (calls from fixed and mobile phones within Ukraine are free)
Organizer of the IV-th International Congress on Infusion Therapy – State Institution "Institute of Blood Pathology and Transfusion Medicine of the National Academy of Medical Sciences of Ukraine".
* Login and password to the personal account were sent to the e-mail address specified during registration. The access letter may be in the Spam folder. The login is the mobile phone number that was specified during registration.
To recover the password on the authorization page, click "Forgot your password?", or go to the congress chatbot and click "Reset password".