On June 19, the seventh, final webinar "Epilepsy and cognitive personality changes" from the "Synaptic burst" cycle from the School of Cognitive Disorders will be held
12-06-2023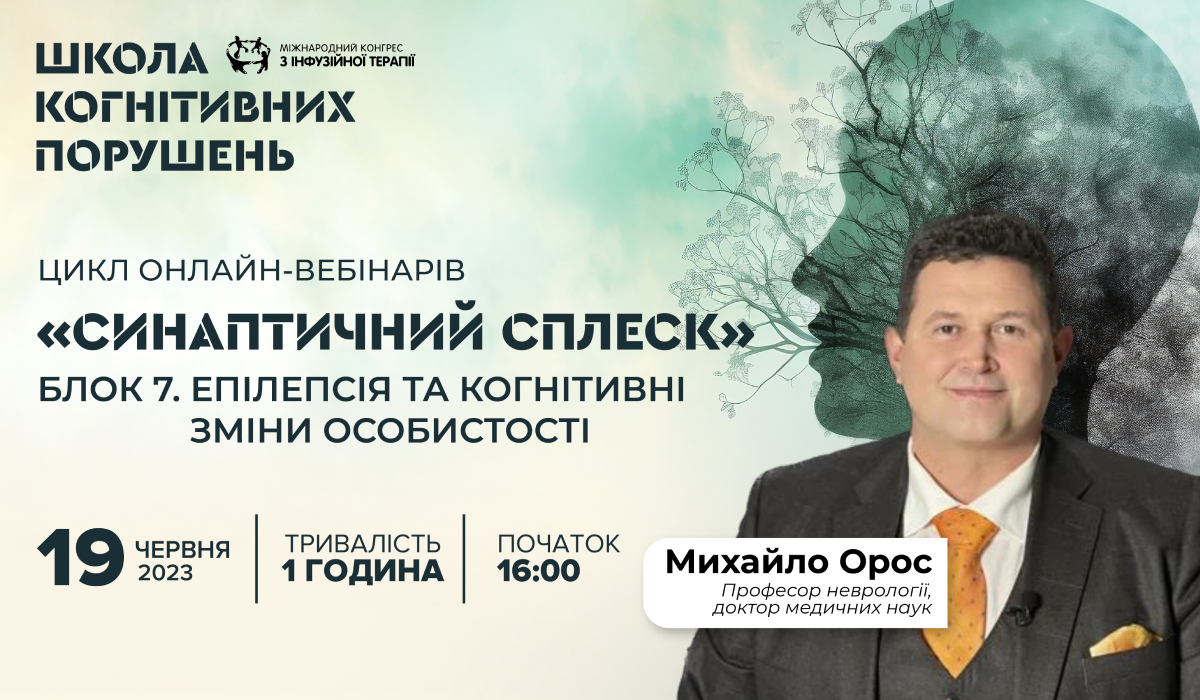 Cognitive changes in people with epilepsy can include problems with memory, concentration, speech, and executive function. These changes can be a consequence of the disease itself, and can also be caused by seizures and treatment with antiepileptic drugs.
While epilepsy and cognitive personality changes can be challenging for those living with these conditions, it's important to remember that there are treatments and supports that can help manage these symptoms and improve patients' quality of life.🤔
👉 We invite you to the seventh block from the cycle of the School of Cognitive Disorders "Synaptic Surge", which is dedicated to the problem of epilepsy.
📌 The webinar will be held on June 19, 2023 at 4:00 p.m.
⭐️ Professor Mykhailo Oros, a leading expert in the field of neurology and neuroscience, will hold the seventh, final webinar on the topic "Epilepsy and cognitive personality changes". In this unit, you will learn about the impact of epilepsy on the personality and quality of life of people who are faced with this disease.
In total, as part of the cycle of online webinars, six training blocks have already been held, which allow you to expand your knowledge and practical skills in the field of neurology.
For each webinar, the participating doctor receives a certificate for 10 BPR points in accordance with the Order of the Ministry of Health of Ukraine dated February 22, 2019 No. 446. To receive the certificate, you need to pass a short test at the end of the webinar.
In addition, as part of the webinar, there will be an opportunity to chat with the professor and ask him questions. Professor Oros will explain the topic and provide practical advice in clinical cases.
💙💛 Participation in the webinar is free, but the number of viewers is limited (1000 participants).
Do not miss this unique opportunity to improve your knowledge and skills in the field of cognitive impairment.
Register for the Synaptic Surge webinar series today!🔥
Conditions for getting the certificate! 
To get the certificate you have to register and to follow the link of online-teleconference you will get by e-mail or Viber message in the day of event. 
The certificate authorizes scoring in continuous professional development according to the order of the Ministry of Health of Ukraine №446 dated 22.02.2019. 
The link for downloading of certificates will be sent to e-mail address indicated during registration within a week after event (please, check "Spam", "Ads", "Promo" folders as the letter may get there). 
❗We recommend you to subscribe on our Facebook-page and YouTube channel. It is regularly updated with interesting and relevant video-reports of well-known Ukrainian and international speakers in the field of medicine. 
Have you registered for our events before? 

Subscribe to the "Infusion Therapy" chatbot on Telegram or the "Infusiontherapy" chatbot on VIBER. ✔ Receive up-to-date information, interesting announcements and news on the topic of infusion therapy!