Join online teleconference on the topical issue "Respiratory Allergies"
06-05-2022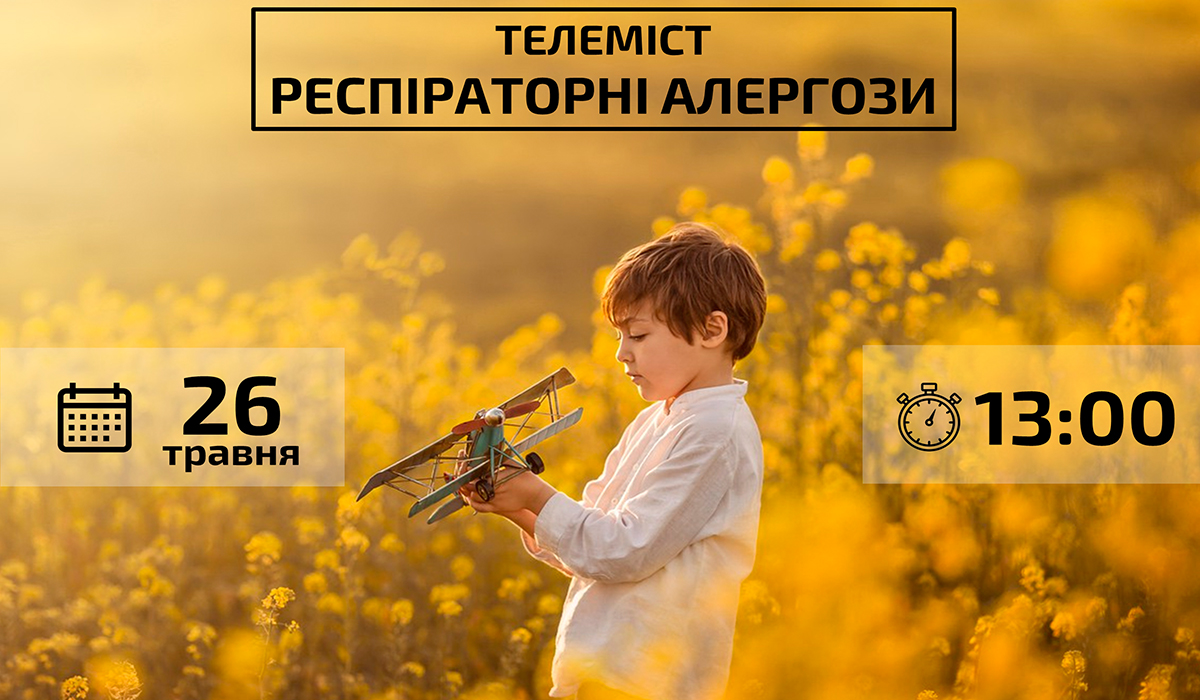 Dear colleagues! Time does not stand still, so we must move forward and continue to contribute to the protection of life and health of Ukrainians!
For the second year we are developing the approach "Respiratory diseases - treat respiratory!" in the series of teleconferences Infusion Therapy.
We invite you to join online teleconference on the topical issue "Respiratory Allergies", which will be covered by a constellation of experts-practitioners, traditionally there will be an opportunity to share experiences in chat, ask questions to speakers and improve their expertise in allergy management.
The teleconference will take place on Thursday, May 26, 2022, at 1 p.m.
For whom: pediatricians, family doctors, therapists, allergists, pulmonologists, ENT.
5 reports are planned
There will be 2 master classes
Expert discussion
The event will be held online
Participation in the teleconference is free.
Registration required. The number of participants is not limited
Certificate: 5 BDP points

Every 10 years the prevalence of allergic diseases increases by 100%. Allergies significantly affect the quality of life, emotional state, sleep, daily activity and productivity of the patient. Therefore, the treatment of such patients should be approached with special care and attention.
Allergic cough: there is a problem, but is there a diagnosis?
Review of updated GINA recommendations
Allergic rhinitis: master class
Bronchiolitis. What does a pediatrician need to know?
Food allergy
How does war affect patients with allergic diseases?
About this and much more as always from the first mouths of leading experts in the field of allergology, pulmonology, pediatrics.
We believe in the words of the Ukrainian Commander-in-Chief: "Life will overcome death, and light will overcome darkness!"
Take care of yourself! Everything will be Ukraine 💙💛
View or download the program in PDF (Ukrainian)
Telephone for inquiries: 0800-400-405 (working hours Mon - Fri from 09:00 to 18:00 Kyiv time) 

Conditions for getting the certificate!
To get the certificate you have to register and to follow the link of online-teleconference you will get by e-mail or Viber message in the day of event.
The certificate authorizes scoring in continuous professional development according to the order of the Ministry of Health of Ukraine №446 dated 22.02.2019.
The link for downloading of certificates will be sent to e-mail address indicated during registration within a week after event (please, check "Spam", "Ads", "Promo" folders as the letter may get there).
❗We recommend you to subscribe on our Facebook-page and YouTube channel. It is regularly updated with interesting and relevant video-reports of well-known Ukrainian and international speakers in the field of medicine. 
Have you registered for our events before? 
Subscribe to VIBER-BOT 'Infusiontherapy' – get up-to-date information, interesting announcements and news on the topic of infusion therapy!