Online-teleconference "Fetal Medicine and Women's Health"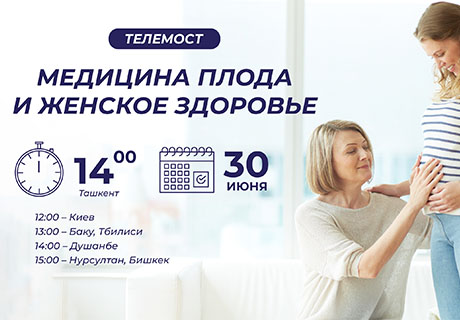 We invite you to the online teleconference "Fetal Medicine and Women's Health" which will take place on June 30, 2022 from 12.00 to 18.00 Kyiv time.
We invite you to an online scientific and practical journey into the universe of the female body and the life that develops in it.
This is a world where much has been learned, but many more mysteries.
Our trip called "Fetal Medicine and Women's Health" will take place on June 30, 2022 from 12.00 to 18.00 Kyiv time.
The birth of a new life is a truly magical and long-awaited event, the "long-awaited event" is sometimes overshadowed by a complicated course or loss of pregnancy.
Also a special period of life (menopause) sometimes do not pay proper attention, or the help of specialists is not provided in full.
All these important events in a woman's life must be accompanied by quality, timely assistance and correction of the condition.
Given the many issues, it was decided to share clinical experience between specialists from Ukraine, Uzbekistan, Tajikistan, Kyrgyzstan, Azerbaijan, Georgia, Kazakhstan and share with you!
The following topics are in focus:
Reducing the risk of pathological placentation
Hypertensive disorders of pregnant women
How not to lose the pace of fetal development
Anesthesia and perioperative safety of critical conditions during caesarean section
How to prolong the youth of grandmothers so that they can help take care of grandchildren
We promise, it will be interesting! Register today!
View or download the program in PDF (Ukrainian)
Telephone for inquiries: 0800-400-405 (working hours Mon - Fri from 09:00 to 18:00 Kyiv time) 
Conditions for getting the certificate!
To get the certificate you have to register and to follow the link of online-teleconference you will get by e-mail or Viber message in the day of event.
The link for downloading of certificates will be sent to e-mail address indicated during registration within a week after event (please, check "Spam", "Ads", "Promo" folders as the letter may get there).
❗We recommend you to subscribe on our Facebook-page and YouTube channel. It is regularly updated with interesting and relevant video-reports of well-known Ukrainian and international speakers in the field of medicine. 
Have you registered for our events before? 

Subscribe to VIBER-BOT 'Infusiontherapy' – get up-to-date information, interesting announcements and news on the topic of infusion therapy!